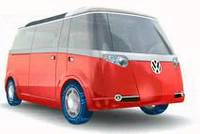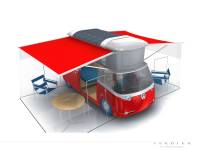 Just for the sheer joy of a great animated concept car, which please God, I hope they make, go check out this site. Looks like they have gotten it right.
Click on the Westphalia to be led to the site.
Click on the van as it is part of their rotation menu.
From there just check it out.
Make sure you catch the Quicktime movie also.
Okay, who is getting me one? I will tell you now, I don't care how it sounds but I have always loved traveling in this style.
When I was but 8 or 9 my parents went and purchased a Southwind Motorhome. Never before had I seen anything like it. At the time all our vacations were either local or by plane. We weren't ones for the open road, much less cross country treks to visit family, Niagra Falls, Tradewinds, Dollywood or the grand daddy of them all, Walt Disney World.
But I will tell you; getting into that home on wheels was so much fun. I couldn't wait for any chance to pop up to get in it and just ride.
"What, Dad? Did you see an oil change at the station? Can I come?"
"Can I pack up the camper with the food and suitcases we are taking?"
Never was I such a helpful kid as when it came to get that thing on the road. Of course, later in life once I got my car and was more on my own it did take a back seat. We didn't travel so much anymore. Everyone was doing their own thing. Plus gas was just CRAZY expensive to fill it up.
I always thought I would get one as an adult. At the time I didn't think I would be living in NYC, but it was always on my mind. God, seeing the new version of what used to be really brings back memories. Including that first campground group shower area...but I will leave that to another time. Oh, come on I was but no more than 11 years old. Dirty minded perverts.
I will tell you though that if I didn't know what I wanted before I went in I knew what I wanted when I came out.
I already showed you the new one that I want. To quote Ferris, "Que Bella
". Now you can take a look at a couple of old pics of the one I used to enjoy. Tell me, do u think I would enjoy the new one?